Whilst Ripon Community House is closed to the public, our staff and voluteers are working hard behind the scenes to help ensure the safety of those classed as vulnerable and in need in the Ripon area.
This page will be used to share the latest information and resources from around the City and the wider district.
Please bookmark this page and share with anyone who you think might benefit.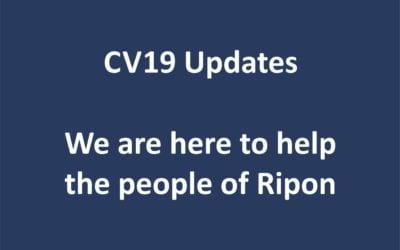 We will be sharing the latest news and advice for local residents here - please bookmark this page and share it with friends, families, neighbours and colleagues.
read more
Social Distancing & Isolation: Ripon Area Shops
Telephone Orders, Payment & Delivery Service (& Crisis Provision)
North Yorkshire County Council
Local Emergency Assistance Fund for vulnerable adults/families food/gas/electric
Seek referral via health, social care, housing or carers resource.
Further info – online form or if urgent
T: 01609 780780
Ripon Salvation Army Food Bank
Emergency Assistance & Community Support
T: 01765 692657
Ripon Bread of Life Food Bank
 Emergency food aid by referral only
Deliveries available
Contact GP, health, social care or housing worker to request referral
No self-referrals
Beavers Butchers
Meat deliveries Wednesdays and Fridays to Ripon & villages  
Payment accepted by BACS or credit/debit card over the phone
T: 01765 689269 24hr answerphone
T: 07515 393184 mobile
Facebook: Beavers Butchers
Email: beaversbutchers@hotmail.com
Colin Pickard Milk Man
Milk, eggs & orange Juice deliveries Mondays, Wednesdays and Fridays to Ripon area
Payment accepted by BACS , Cash or Cheque
KE Blands Fruit & Veg
Fruit/veg, milk, butter, cheese, yoghurt & bread deliveries to Ripon area 
Payment accepted by credit/debit card over the phone
T: 01765 603049
Marleys Butchers
Meat
Delivery available
Payment by credit and debit card over the phone
T: 01765 698988
R & J Farmers & Butchers
Fresh Meat
Delivery available Monday-Thursday
Payment by BACS, credit and debit card over the phone
Pop up shop Mon/Wed/Fri
Contact ryan@randjyorkshiresfinest.co.uk
Tel 01765 658611
Ripley Butchers
Fresh Meat
Delivery available Wednesday-Friday
Payment by BACS, credit and debit card over the phone
T: 01423 770110
Highside Butchers Kirkby Malzeard
Meat, Fruit & Veg, Bread, Dairy, Groceries, Ready meals
Delivery available to Ripon and surrounding villages
Payment by credit and debit card over the phone or cash on delivery
highsidebutcherskm@hotmail.com
T: 01765 658423 6am-6pm
T: 07531 132980
Voakes Pies
Pies, sausage rolls, bacon, sausages, black pudding
Delivery available
Payment by credit and debit card over the phone
T: 01423 339988
Salt and Pepper Pie Company
Burton Leonard Store & PO
Bread , groceries, fruit & veg, milk, household essentials, fresh prepared ready meals
Delivery to Burton Leonard & villages (min order £5)
Payment by credit and debit card over the phone
T: 01765 677259
Minskip Farm Shop
Fruit & veg boxes, eggs, potatoes, frozen meat
Delivery available
Payment by credit and debit card over the phone or online
T: 01423 329063 Extension 1
Phillip Kellet Milk Man
Milk, Eggs, Orange Juice
Delivery to Ripon area
T: 07967 405085
Burton Leonard Store & PO
Bread , groceries, fruit & veg, milk, household essentials, fresh prepared ready meals
Delivery to Burton Leonard & villages (min order £5)
Payment by credit and debit card over the phone
T: 01765 677259
Minskip Farm Shop
Fruit & veg boxes, eggs, potatoes, frozen meat
Delivery available
Payment by credit and debit card over the phone or online
T: 01423 329063 Extension 1
Phillip Kellet Milk Man
Milk, Eggs, Orange Juice
Delivery to Ripon area
T: 07967 405085
Kirkby Fisheries
Takeaway meals deliveries Kirby Malzeard and surrounding areas
Payment accepted by contactless payment or payment over the phone
T: 01765 658723
St Wilfrids Café
Thurs/Fri/Sat/Sun 10- 3pm payment over phone or contactless card on delivery
Tel 01765 278517
Menu on facebook page 
Valentinos & Water Rat
Fri/Sat/Sun
Tel 01765 602251 from 12 noon
Pay by card over phone
Delivered or collected
Ripon Pet Supplies
All supplies for pets, equine, poultry
63 Bondgate, Ripon
Deliveries  available
Payment accepted by credit/debit card over the phone
T: 01765 278679
Ripon Pet Shop
Pet food
Delivery available
Payment by credit and debit card over the phone
To place an order, please continue to either:
ring the shop – 01765 602242 (leave a message if I'm not there)
text or call my mobile 07921 841127
or email me on info@riponpets.co.uk
I will get back to you to confirm that your items are in stock and to let you know a delivery day
Pharmall Country Food Store
Pet and poultry goods
Delivery available to:
HG1/2
HG3 2xx
HG3 3 xx
Payment by credit and debit card over the phone
Free delivery on orders over £20
T: 01423 506615
The Easy Learning shop (Ripon)
Toys and Games also now a traidcraft stockist – essential tea/coffee
Ripon Laptop Centre
PC, Laptop & Mac sales, service and technical support
T: 01765 602262
Tates Garden Centre
Call 01765 602822
Pay over the phone
Delivering locally
Ripon Walled Garden
Tel 01765 609229 between 8.30 and 12 noon
Free contactless delivery on orders over £15 in HG4 area
Payment over the phone
The little Ripon Bookshop